BuidlerCon2023 Background
We are in an era of public chain explosion. Most public chains are compatible with EVM, doing expansion, cross-chain, higher, faster and stronger with low gas around Ethereum.
In recent years, non-EVM ecosystems have also found another way to solve the technical problems plaguing the EVM system with the support of star teams and capital, with Solana, Polkadot, Cardano, Near and Ton in the past and Aptos, Sui, Fuel and Linera in the future.
For Non-EVM ecosystems, the bear market is a rare opportunity. Standing in the new 2023 crypto cycle, will the innovation of the technology of Non-EVM ecosystems be landed? Which Non-EVM ecosystem has a chance to break out of Ether, and how can Non-EVM ecosystem attract more users and liquidity? With these questions, we started the Web3 Non-EVM eco Summit at Buidlercon 2023.
BuidlerCon2023 Introduction
BuidlerCon 2023, hosted by AC Capital and co-hosted by Molecular Hub, BlockTides, Mesolabs and GLITCH Global, aims to facilitate the communication of builders in Non-EVM ecosystems and discuss the future development and market landscape of the Non-EVM space.
The HKSAR Government attaches great importance to the development of FinTech, and this summit is supported by InvestHK, HKSTP, and Hong Kong Wireless Technology Industry Association, with King Leung, Head of FinTech Department, Terry Chan and Icy Yau, Senior Managers of InvestHK, as guests of honor.
Together with KuCoin Ventures, OKX_Ventures, OFR Fund, Sky9Capital, ZonffPartners, BasicsCapital, Waterdrip Capital and other organizations, we will promote the development of Web3 industry in Hong Kong and build Non-EVM in an active and diversified way.
On July 26th, Hong Kong government financial executives, 20+ industry leaders, 40+ investment institutions, 20+ industry media, 100+ developer communities and builders who pay close attention to Non-EVM ecosystems will gather in Hong Kong to discuss hot topics such as the emerging ecological landing and future potential of Non-EVM to better meet the challenges of Non-EVM landing.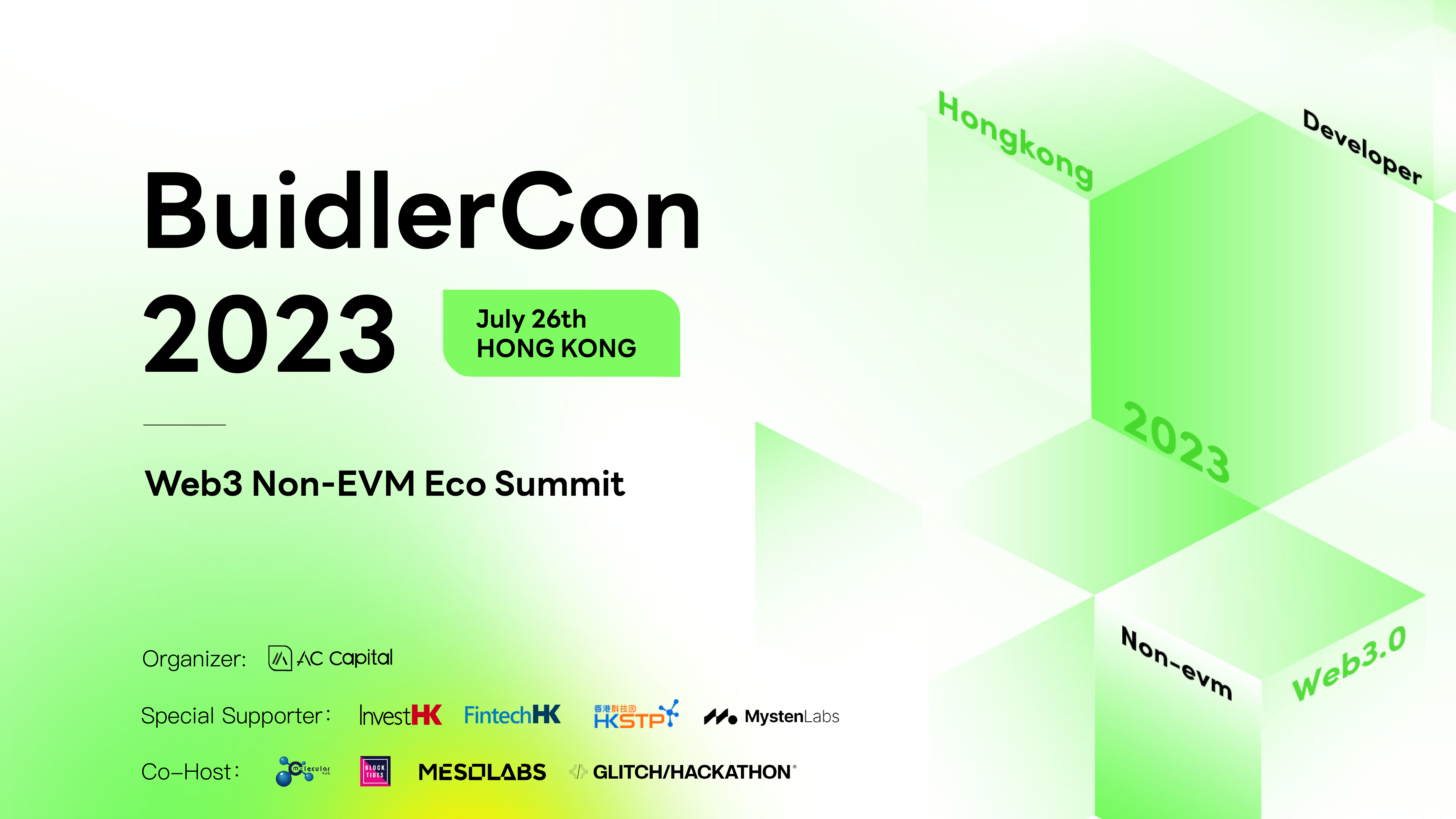 BuidlerCon2023 Tentative Agenda
The ticket channel for the summit is now open, which aims to provide more people with the opportunity to learn about the progress of Non-EVM ecosystems. Meanwhile, more guests will be updated one after another. Sponsorship and business activities are continuously recruited. Join Buidlercon 2023, together with the Hong Kong government and many investment institutions in Asia, to stimulate the Non-EVM ecological vitality.
Buidlercon 2023 Demo Day is also open at the same time. Buidlercon 2023 Demo Day focuses on finding the stars of tomorrow in Non-Evm ecosystems. The Demo Day online registration channel is now open. We welcome high quality projects from all over the world to showcase your ideas and get comprehensive exposure, mentorship funding and resources.
Buidlercon2023